Recent Press Releases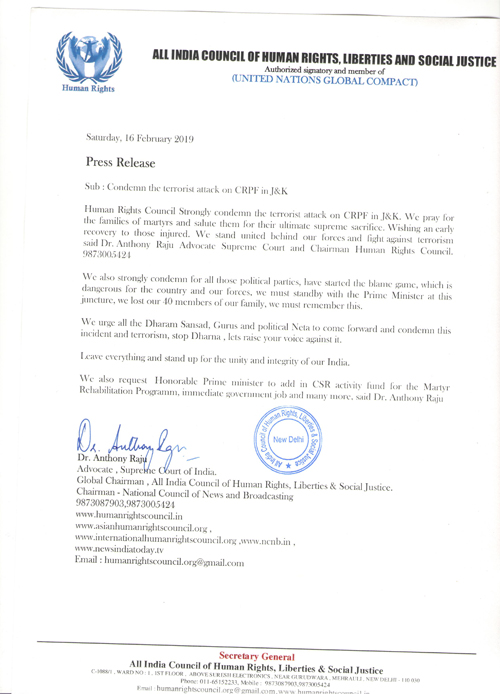 Condemn the terrorist attack on CRPF in J&K
Human Rights Council Strongly condemn the terrorist attack on CRPF in J&K. We pray for the families of martyrs and salute them for their ultimate supreme sacrifice. Wishing an early recovery to those injured. We stand united behind our forces and fight against terrorism said Dr. Anthony Raju Advocate Supreme Court and Chairman Human Rights Council. 9873005424
We also strongly condemn for all those political parties, have started the blame game, which is dangerous for the country and our forces, we must standby with the Prime Minister at this juncture, we lost our 40 members of our family, we must remember this.
We urge all the Dharam Sansad, Gurus and political Neta to come forward and condemn this incident and terrorism, stop Dharna , lets raise your voice against it.
Leave everything and stand up for the unity and integrity of our India.
We also request Honorable Prime minister to add in CSR activity fund for the Martyr Rehabilitation Programm, immediate government job and many more, said Dr. Anthony Raju